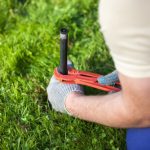 Installing a sprinkler system is a fantastic way to ensure your lawn and garden stay lush and healthy throughout the year. However, many homeowners hesitate to get one installed due to concerns about the length of time it takes. In this blog post, we will delve into the factors that determine sprinkler installation time and provide an estimate of how long the process typically takes.
1. Size of the Property
The size of your property plays a significant role in determining how long the sprinkler installation will take. A smaller yard with fewer square feet will obviously take less time to cover compared to a larger property. The layout and shape of the yard also impact the time required for installation. If your yard has a lot of corners or irregular areas, the installation may take longer due to additional pipes and sprinkler heads needed.
2. Complexity of the Design
The complexity of the sprinkler system design is another crucial factor to consider. A basic system with a few zones and simple layouts will require less time to install compared to a more intricate design with numerous zones, multiple valve installations, and various types of sprinkler heads. The more complex the design, the longer the installation may take, as additional components and adjustments are necessary.
3. Existing Landscape Features
The presence of existing landscape features can impact the installation timeline. If your property has trees, flower beds, or other established landscaping elements, extra time may be needed to navigate around these areas. It is crucial to preserve the integrity of your existing landscape while installing the sprinkler system, and this might require more precise planning and adjustment of the system layout.
4. Soil Conditions
Soil conditions can also affect the installation timeframe. If the soil is rocky or clayey, it may take longer to dig trenches and install the necessary pipes. In some cases, special equipment might be required to dig through challenging soil types, which could further extend the installation time.
5. Permitting and Approvals
Before starting any installation work, make sure you check the local regulations and obtain the required permits. The time it takes to obtain these permits can vary depending on your location. Additionally, if you live in a homeowners association (HOA), you may need to seek their approval before installing a sprinkler system. These extra administrative steps can add some time to the overall installation process.
6. Professional Installation versus DIY
The decision to hire professionals or tackle the installation yourself can significantly impact the time it takes to complete the project. Professional sprinkler contractors will have the knowledge and tools to work efficiently, potentially completing the installation within a few days. However, if you decide to undertake the project on your own, it may take longer as you familiarize yourself with the necessary steps and tools.
Conclusion
The time required for sprinkler installation can vary depending on several factors. On average, a straightforward installation for a smaller yard may take anywhere from one to three days. However, for larger properties with complex designs, it could take up to one to two weeks. Consulting with a professional sprinkler installer can provide you with a more accurate estimate based on your specific requirements.
Remember, while installation time is essential, it is equally important to install the system correctly and efficiently to ensure its long-term functionality. Proper planning, the right tools, and expert guidance can all contribute to a successful and time-effective installation process.
Got Questions? Let Us Help!
Star Sprinkler Systems, Inc. is a family owned and operated business serving Medford, NJ, and surrounding areas. With over 35 years of experience, we are solely dedicated to the irrigation of residences, businesses, playing fields, golf courses, and public areas. Star Sprinkler Systems, Inc. specializes in water conservation, spring start-up service, irrigation, new installation, repair for any existing sprinkler system, and more. Our trained, professional team members are also available to winterize your system so your lines won't be affected by those freezing temperatures. Contact us today to learn more about what we can do for you!