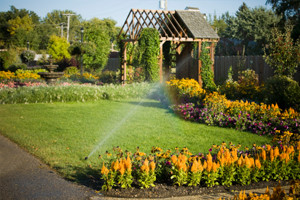 For more than 35 years, Star Sprinkler Systems Inc. has been providing high quality service to customers in Medford and throughout Burlington County, offering a range of sprinkler and irrigation system services designed to keep lawns and other green spaces healthy and looking their best. Our specialty is providing sprinkler system install in Burlington County, NJ with an eye on water conservation. Here's a closer look at our installation services:
Sprinkler system installation: Installing a sprinkler system in Burlington County, NJ offers a great way to achieve an attractive, healthy lawn without the labor-intensive process of watering by hand. Our systems rely on automatic timers, which ensure proper watering even when you're busy or out of town. And thanks to rain sensor technology, your system can conserve water by taking a break during rainy spells.
Sprinkler system repair: Even the highest quality sprinkler system encounters problems from time to time. When your sprinklers aren't working properly, get in touch with the team that installed them! Star Sprinkler Systems Inc. is happy to provide efficient and reliable sprinkler repair in Burlington County, NJ at affordable rates.
Residential, commercial and more: We're pleased to offer our sprinkler system installation and repair services to residential and commercial clients, as well as playing fields, golf courses, public areas and more.
Get a Quote
At Star Sprinkler Systems Inc., our years of experience and strong knowledge of the industry have made us experts in the field's best brands and equipment. We trust sprinkler system products manufactured by Hunter, Rain Bird and Toro, and would be happy to tell you more about these outstanding products.
When you need a company you can turn to for an affordable, effective and high quality sprinkler system install in Burlington County, NJ, we hope you'll give Star Sprinkler Systems Inc. a call at 609-654-1241. We look forward to serving you!