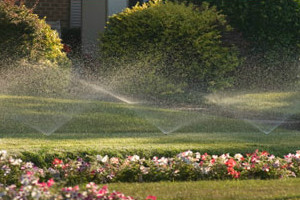 Star Sprinkler Systems Inc. is proud to be Medford, Medford Lakes, Chairville, Burlington County, and Camden County, NJ's trusted sprinkler system service provider. From new system installation to repairs and seasonal maintenance services, we're committed to providing our residential, commercial, municipal and other clients with first-rate sprinkler service every time. In conjunction with our winterizing services, we recommend turning to our team to get your sprinklers working from the get-go when spring rolls around. Here's how we can help:
Sprinkler spring start-up services: Inclement weather, snow, ice and unintentional disruption on the part of people can all cause sprinkler heads to become misaligned during the winter months. The result is a system that won't work the way it's supposed to come spring. When you call us for service in Medford, NJ, we'll check all sprinkler heads, make necessary adjustments and repairs, check your rain sensor and program your automatic timer to meet your needs.
Seamless start-up: At Star Sprinkler Systems Inc., our goal is to get your system started up in the spring as efficiently as possible, with minimal hassle. You can always trust our team to get to the bottom of any malfunctions quickly and make repairs and adjustments with confidence.
Expert attention: We have been contractors in Medford, NJ since 1980, and during the ensuing decades, our team has gained the knowledge and expertise necessary to work on all kinds of systems. When you trust us with your system, you can always rest easy knowing it's in capable hands.
After more than 35 years in the business, Star Sprinkler Systems Inc. understands what makes a quality system or component. We trust such industry leaders as Hunter, Rain Bird and Toro, and stand behind the quality of their products. Ask about upgrades to your system when you schedule your spring start-up visit!
To get in touch with Star Sprinkler Systems Inc. about our sprinkler start-up services come springtime, or to learn more about our other services, please contact us at 609-654-1241. We look forward to hearing from you!