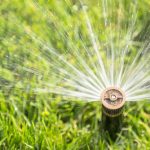 When it comes to maintaining a lush and healthy lawn, having a properly functioning sprinkler system is essential. If you're planning to install a new sprinkler system, there are several factors to consider that can greatly impact its effectiveness and efficiency. In this blog post, we'll explore some important things to think about when planning your new sprinkler installation.
1. Determine Your Water Source
The first thing to consider when planning a new sprinkler installation is the water source for your system. You can choose from various options, including a municipal water supply, a private well, or even a rainwater harvesting system. Each option has its own advantages and considerations, so it's important to assess which suits your needs best. Factors to consider include water availability, quality, and any regulations that may apply.
2. Assess Your Lawn's Needs
Before you can design an effective sprinkler system, it's crucial to assess the specific needs of your lawn. Consider the size and shape of your lawn, the type of soil, and any specific areas that require special attention. For example, if you have a slope or varying elevations, you may need to consider installing different types of sprinkler heads or adjust the system's water pressure accordingly.
3. Determine Your Watering Schedule
Understanding the watering requirements of your lawn is essential to ensure optimal care. Different grass types may have specific watering needs, so it's important to research what's best for your particular lawn. Additionally, take into consideration the local climate and weather patterns to determine how often and at what times your sprinkler system should operate. Some systems even have smart controllers that adjust watering schedules based on real-time weather data, helping you conserve water and ensure efficient irrigation.
4. Choose the Right Sprinkler Heads
Selecting the right type of sprinkler heads for your lawn is vital to achieving effective irrigation. Various options are available, including pop-up spray heads, rotary heads, and drip emitters. Pop-up spray heads are ideal for smaller lawns and areas that require precise coverage, while rotary heads are better suited for larger areas with more even terrain. Drip emitters, on the other hand, are designed for precise watering and are commonly used for flower beds and shrubs. Consider your lawn's specific needs and consult with a professional to determine the best sprinkler heads for optimal coverage and water conservation.
5. Evaluate Your System's Zoning Needs
Understanding your lawn's zoning needs is crucial to ensure efficient watering and avoid wasting water. Zoning refers to dividing your sprinkler system into different sections that can be controlled independently. This allows you to adjust watering schedules and durations based on specific needs. For example, you may want to zone areas with sun exposure differently from shaded areas, or separate your lawn from your garden beds. Evaluating your lawn's zoning needs will help ensure that each area receives the appropriate amount of water.
6. Consider Water Conservation Measures
In today's environmentally conscious world, it's important to consider water conservation measures when planning a new sprinkler installation. Look for sprinkler heads that are designed for water efficiency, such as those with built-in pressure regulation or low precipitation rates. Additionally, integrating rain sensors and moisture sensors into your system can further optimize water usage. These sensors can detect rainfall and soil moisture levels, automatically adjusting your watering schedule to avoid unnecessary irrigation.
7. Consult with a Professional
While you may have a general understanding of your lawn's needs and sprinkler system requirements, consulting with a professional can greatly enhance the effectiveness and efficiency of your new installation. Irrigation professionals have the knowledge and experience to design and install a system that perfectly meets the unique needs of your lawn. They can provide valuable advice on system design, water conservation measures, and ongoing maintenance to ensure your sprinkler system operates at its best.
Summary
Planning a new sprinkler installation requires careful consideration of various factors, including your water source, lawn's needs, watering schedule, sprinkler head selection, zoning needs, water conservation measures, and professional consultation. By taking the time to think through these aspects, you can ensure that your new sprinkler system is efficient, effective, and helps you maintain a healthy and vibrant lawn. So, it's time to dive into the planning process and get ready to enjoy the benefits of a well-designed sprinkler system for years to come!
Got Questions? Let Us Help!
Star Sprinkler Systems, Inc. is a family owned and operated business serving Medford, NJ, and surrounding areas. With over 35 years of experience, we are solely dedicated to the irrigation of residences, businesses, playing fields, golf courses, and public areas. Star Sprinkler Systems, Inc. specializes in water conservation, spring start-up service, irrigation, new installation, repair for any existing sprinkler system, and more. Our trained, professional team members are also available to winterize your system so your lines won't be affected by those freezing temperatures. Contact us today to learn more about what we can do for you!