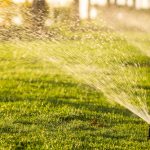 Winter is fast approaching, bringing along freezing temperatures and harsh weather conditions. As homeowners, we tend to focus on important tasks such as insulating our homes and protecting our pipes from freezing. However, many of us overlook the importance of winterizing our sprinkler systems. In this blog post, we will explore why it's crucial to winterize your sprinkler system and the potential consequences of neglecting this essential task.
Prevents Freezing Damage
One of the primary reasons to winterize your sprinkler system is to prevent freezing damage. During the winter months, when temperatures drop below freezing, any remaining water in the system can freeze and expand. This expansion exerts pressure on the pipes, fittings, and valves, leading to cracks, leaks, or even complete pipe bursts. The damage caused by frozen water in your sprinkler system can be extensive and costly to repair. By properly winterizing your system, you can avoid these issues altogether.
Preserves the Longevity of Your Sprinkler System
Another important reason to winterize your sprinkler system is to preserve its longevity. When water freezes and expands within your pipes, it can lead to long-term damage that affects the overall performance and functionality of your sprinkler system. Not only can this result in expensive repairs, but it can also shorten the lifespan of your system. By taking the time to winterize your sprinkler system, you are investing in its durability and ensuring it will continue to work efficiently for years to come.
Protects Your Investment
Installing a sprinkler system can be a significant investment for any homeowner. It adds value to your property and improves your overall convenience by providing a hassle-free method of watering your lawn. Neglecting to winterize your system can potentially negate this investment. By experiencing freezing damage, you may be faced with costly repairs or even replacement expenses. Winterizing your sprinkler system is a proactive step to protect your investment and avoid unnecessary financial burden in the future.
Prevents Water Waste
A lesser-known benefit of winterizing your sprinkler system is preventing water waste. When you fail to properly winterize your system, any remaining water within the pipes can leak out or be expelled during freezing conditions. This not only leads to wasted water but also wastes the money you spent on that water. Moreover, excess water that freezes on your lawn can cause slippery surfaces, leading to accidents. By winterizing your sprinkler system, you are being environmentally conscious and avoiding unnecessary water waste.
Simplifies Spring Startup
Winterizing your sprinkler system also simplifies the process of starting it up again in the spring. Properly winterizing your system involves draining all the water out of the pipes, valves, and sprinkler heads. When spring arrives and it's time to reactivate your system, you only need to reverse the winterizing process. This significantly reduces the risk of any residual water causing damage during the startup phase. By winterizing your system in the fall, you are preparing it for a seamless transition into the active watering season.
Summary
As the winter season approaches, it's important to prioritize the maintenance and protection of all aspects of your home, including your sprinkler system. By winterizing your system, you can prevent freezing damage, preserve its longevity, protect your investment, prevent water waste, and simplify the spring startup process. Although it may require some time and effort, the benefits far outweigh the consequences of neglecting this essential task. So don't delay; take the necessary steps to winterize your sprinkler system and ensure its continued functionality for years to come.
Need Sprinkler Contractors in Medford, NJ?
Star Sprinkler Systems, Inc. is a family owned and operated business serving Medford, NJ, and surrounding areas. With over 35 years of experience, we are solely dedicated to the irrigation of residences, businesses, playing fields, golf courses, and public areas. Star Sprinkler Systems, Inc. specializes in water conservation, spring start-up service, irrigation, new installation, repair for any existing sprinkler system, and more. Our trained, professional team members are also available to winterize your system so your lines won't be affected by those freezing temperatures. Contact us today to learn more about what we can do for you!