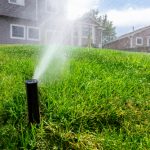 Maintaining a healthy and vibrant lawn requires regular watering, and one of the most efficient ways to accomplish this is by using sprinklers. However, it's crucial to strike a balance between watering too frequently and not enough. The frequency at which you should use your sprinklers depends on various factors, such as the climate, soil type, grass species, and the time of year. In this blog post, we will delve into these considerations and provide you with guidelines on how often you should use your sprinklers for a lush and thriving lawn.
Understanding Your Climate
First and foremost, it's essential to understand your climate and its impact on your lawn's watering needs. If you live in an arid or semi-arid region, you will likely need to water your lawn more frequently due to the lack of natural rainfall. On the other hand, if you reside in a more temperate or humid climate, you may only need to water your lawn sparingly, as there may be sufficient rainfall to keep it adequately hydrated.
Soil Type and Water Retention
Another critical factor to consider is your soil type. Different types of soil have varying water retention capabilities. Sandy soils tend to drain water quickly, requiring more frequent watering, while clay soils hold water for longer periods, allowing for less frequent irrigation. Loamy soils strike a balance between drainage and retention, reducing the frequency of watering. Understanding your soil type will help you determine the appropriate frequency for using your sprinklers.
Grass Species and Growth Habits
The type of grass in your lawn plays a significant role in determining watering needs. Cool-season grasses, like Kentucky bluegrass or fescue, prefer regular watering but can tolerate dry periods without suffering severe damage. Warm-season grasses, such as Bermuda grass or zoysia grass, have deeper roots and can withstand longer periods without water. However, keep in mind that even drought-tolerant grasses will benefit from periodic watering to remain healthy and attractive.
Seasonal Variations
Watering requirements for your lawn will vary depending on the time of year. During the hotter months of summer, when evaporation rates are higher, you will likely need to use your sprinklers more frequently. Conversely, spring and fall typically bring cooler temperatures and more rainfall, reducing the need for frequent irrigation. Monitor the weather and adjust your watering schedule accordingly to prevent over- or under-watering your lawn.
Establishing a Watering Schedule
Now that you understand the various factors influencing the frequency of sprinkler usage, let's discuss how to establish a watering schedule for your lawn. Follow these general guidelines:
1. Determine your lawn's water needs: Consider the climate, soil type, grass species, and current weather conditions to gauge the necessary watering frequency.
2. Perform the finger test: To check if your lawn needs watering, insert your finger into the soil to a depth of about 2 inches. If it feels moist, there's no immediate need for watering. If it's dry, it's time to water.
3. Water deeply and infrequently: Instead of frequent light watering, give your lawn a thorough soaking. This encourages deep root growth and makes the grass more resilient during dry periods.
4. Water early in the morning: Aim to water your lawn between 4 am and 10 am when there is less wind and lower evaporation rates. This will maximize water absorption.
5. Adjust with the seasons: Adapt your watering schedule as the seasons change. Increase frequency during summer and decrease it in cooler months.
Conclusion
By considering your climate, soil type, grass species, and the time of year, you can establish an effective and efficient watering schedule for your lawn. Regular monitoring and making necessary adjustments will help maintain a healthy, green, and vibrant lawn that enhances your outdoor space all year round.
Got Questions? Let Us Help!
Star Sprinkler Systems, Inc. is a family owned and operated business serving Medford, NJ, and surrounding areas. With over 35 years of experience, we are solely dedicated to the irrigation of residences, businesses, playing fields, golf courses, and public areas. Star Sprinkler Systems, Inc. specializes in water conservation, spring start-up service, irrigation, new installation, repair for any existing sprinkler system, and more. Our trained, professional team members are also available to winterize your system so your lines won't be affected by those freezing temperatures. Contact us today to learn more about what we can do for you!