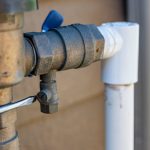 After a long winter, when the weather starts to warm up, it's time for you to start thinking about spring start-up for your sprinkler system. This process involves getting your sprinklers up and running after being dormant during the winter season. In this blog post, we will cover what spring start-up is all about and when the ideal time is to have it done for your sprinklers.
Understanding Spring Start-Up:
Spring start-up is the process of preparing your sprinkler system for the spring and summer seasons. During the cold winter months, it's essential to turn off and drain your sprinkler system to prevent water from freezing and causing damage to the pipes and components. Spring start-up includes turning on the main water supply, inspecting all the sprinkler heads, checking for leaks, adjusting watering schedules, ensuring proper water pressure, and clearing any debris that may be blocking the sprinkler heads.
Why Spring Start-Up Matters:
Spring start-up is crucial for the optimal functioning of your sprinkler system throughout the growing season. Neglecting this process can lead to various issues, including damaged pipes, clogged sprinkler heads, inefficient watering, and water wastage. By having a professional perform spring start-up, you can ensure that your sprinklers are in excellent condition, providing adequate irrigation to keep your lawn and plants healthy.
Ideal Time for Spring Start-Up:
The timing for spring start-up can vary depending on your geographical location and the climate in your area. However, as a general rule of thumb, it's recommended to schedule spring start-up for your sprinklers as soon as the threat of frost has passed. This typically occurs in late winter or early spring, but it's always best to check with local weather forecasts or consult a professional to determine the ideal timing for your specific region.
Benefits of Early Spring Start-Up:
Getting your sprinkler system up and running early in the spring season has several advantages. Firstly, it allows you to identify any potential issues or repairs needed before the peak irrigation season arrives. By addressing these problems early on, you can prevent further damage and save money by avoiding more extensive repairs later. Early spring start-up also ensures that your lawn and plants receive sufficient water from the beginning of their growing season, promoting healthy growth and minimizing the risk of drought stress.
Finding a Professional Sprinkler Service:
While you may consider handling spring start-up yourself, hiring a professional sprinkler service is highly recommended. These experts have the knowledge, experience, and specialized tools to perform a thorough inspection and ensure the optimal performance of your sprinkler system. They can identify any hidden leaks, calibrate the sprinkler heads, adjust watering schedules based on plant needs, and advise you on water conservation techniques. Moreover, professional sprinkler services usually offer maintenance plans, allowing them to regularly monitor and service your system throughout the year, ensuring its longevity and efficiency.
Conclusion:
Spring start-up for your sprinkler system is an essential task to prepare it for the upcoming spring and summer seasons. By scheduling spring start-up as soon as the threat of frost has passed, you can identify any repairs needed, optimize the system's efficiency, and provide adequate irrigation to keep your lawn and plants flourishing. Hiring a professional sprinkler service is highly recommended to ensure a thorough inspection and maintenance of your system.
Got Questions? Let Us Help!
Star Sprinkler Systems, Inc. is a family owned and operated business serving Medford, NJ, and surrounding areas. With over 35 years of experience, we are solely dedicated to the irrigation of residences, businesses, playing fields, golf courses, and public areas. Star Sprinkler Systems, Inc. specializes in water conservation, spring start-up service, irrigation, new installation, repair for any existing sprinkler system, and more. Our trained, professional team members are also available to winterize your system so your lines won't be affected by those freezing temperatures. So, don't delay – book your spring start-up today and get ready for a lush green garden all season long!