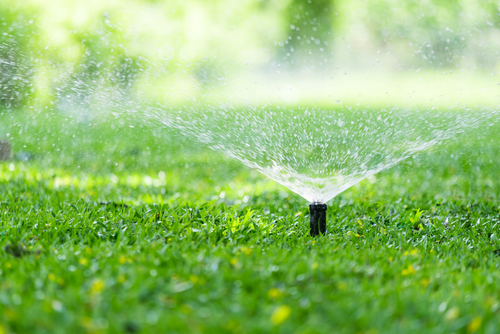 Irrigation systems are a great way to keep your garden healthy and thriving, but they can also be prone to issues. If left unchecked, these problems can get worse and cost you money in the long run. That's why it's important to regularly inspect your sprinkler system to catch small issues before they become big problems. In this article, we'll look at some ways to properly maintain and repair your sprinkler system. 
Clean It Up
Cleaning your sprinkler system is an easy way to keep it running properly and prevent water waste. Flushing a sprinkler system is an important step because it helps to clean away any dirt or sand that may be trapped in the pipes. It also removes air pressure from the lines, which can cause them to become clogged. 
Check For Leaks
If you have a sudden increase in your water bill, or if you see water draining after it's been turned off, a leak is a likely culprit. First, check your sprinkler heads to see if there are any that don't spray properly or have low water flow. If there are, this is a good indication of a leak in a pipe somewhere between the working sprinklers and the non-working ones. 
Repair Broken Pipes
A broken sprinkler pipe can cause a lot of damage to your landscape, lawn, and yard. You should have your sprinkler system repaired as soon as possible if it is damaged or needs to be replaced. Repairing sprinkler pipes can typically range from $150 to $350 depending on the type and size of the piping. 
Replace Filters
Filters are an important part of a properly maintained sprinkler system. They remove sediment from water that can clog sprinkler heads and cause problems. There are many types of filters available, including screen filters, disc filters, media filters, and centrifugal filters. In addition to filtering water, some are designed for specific functions such as removing rust and iron particles. Others are designed to remove algae from pond or irrigation ditch water. But regardless of the type of filter that's in your sprinkler system, all filters inevitably need to be swapped sooner or later. 
Check The Solenoid
One of the most important and useful devices in our modern world is the solenoid, used in everything from automated factory equipment to paintball guns. A solenoid is a coil of wire that activates a magnetic field when it receives an electric current signal. When it's not functioning correctly, a solenoid can cause a variety of problems in your sprinkler system. Some common issues include never-ending water, low water pressure, and leaks. If your solenoid has stopped working, you can test it using a simple method. Place a compass near the solenoid and watch for a jump in the needle when it's activated. 
Check The Irrigation Controller
A sprinkler controller is the device that runs your system based on the water schedule you set. It tells the timer when to start and how long to run each station or "zone." Some controllers also include soil moisture sensors, which send water only to zones that need it — if a zone gets too wet, it's shut off, for example. In order to get the best performance out of your controller, you need to make sure that it's properly maintained and repaired. Performing these tasks will help you avoid water waste and unnecessary maintenance in the future.